Daffodil Princess Royal Court
Princess Candidate Kyona - DR. Dolores Silas High School 2023
Princess Andrea - DR. Dolores Silas High School 2022
Andrea advocates literary and visual arts that empower youth as part of Disclaimer Magazine's Editorial Board and Write253, a literary arts organization that testifies to the capacities of young creatives in Tacoma. She shares a love for the performing arts as well, having played leading and supporting roles in the school musical, Scintillation Show Choir, Tacoma Little Theatre productions, and the Stop Poverty Foundation's Love and Peace Concert fundraiser. She interns for the Patient-Centered Outcomes Research Institute and MultiCare on the Adolescent and Young Adult Oncology Council (AYAOC) in order to facilitate support, informed health care decisions, and viable research between patient and professional stakeholders among institutions such as UC Davis, Cleveland Clinic, University of Texas, Indiana University, and Penn State University. Andrea is both Team Captain of the varsity cross country team and co-captain of JROTC Strength Team. She's also had the privilege of serving as Vice President and Team Captain to Knowledge Bowl, which specializes in bolstering diverse academic pursuits in exciting competition. In her free time, she volunteers in cleaning up local parks and singing in Church choir. Her involvement within Silas High School and Tacoma Community College makes her an esteemed member of both the National Society of High School Scholars as well as the Phi Theta Kappa Honor Society. As a Running Start student, she is working towards attaining her associate degree with a specialization in political science so she can meaningfully give back to the community that has raised and motivated her to values of social awareness and responsibility. 
Princess Kelsey - Wilson High School 2021
Kelsey founded Pantry 253, helping to feed people in need that live in the greater Tacoma area. She is the Commanding Officer (Cadet Major) of the JROTC program and Captain/Commander of the Division Champion Strength Team, Marksmanship Team, Unarmed Drill Team, Academic Team, CyberPatriot, Color Guard, and Dual Unarmed Exhibition Drill Team. The cumulation of her leadership experience and studies at Stanford inspired her to create and direct her Well-Being and Character Development Course, DCPOS. Throughout her cumulative 500 hours of community service, she has earned roles such as a Magic in the PNW Character/Assistant Manager and Tacoma City Marathon Head Course Marshall. Additionally, she is an active activist for issues such as environmental justice and social equality. She also created the AYFTJ 24-Hour Puget Sound Virtual Race, leading the way by walking 61.42 miles within a day. After her multidisciplinary studies at USAFA, Kelsey plans to be an Astropsychiatrist.
Princess Genevieve - Wilson High School 2020
High school activities Princess Genevieve enjoys include being president of Jazz Choir, being a member of Key Club and taking part in Centerstage. She also is active with The Royal Rams dance team and The Students for Action Club. Genevieve is a member of the varsity fast pitch team, drama and is also on the honor roll. Her future plans are to attend PLU to study journalism and communications. She is looking forward to an internship with a local media/publication and eventually become a freelance writer for newspapers, magazines or a reporter or a column editor. Her ultimate goal is to become the editor of a publication.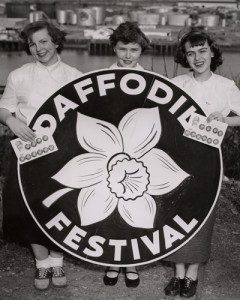 1936 Daffodil Princesses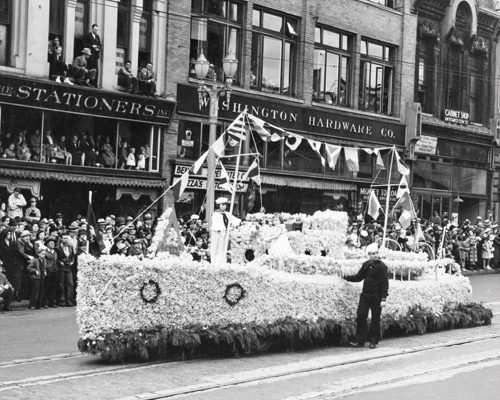 A float traveling through downtown Tacoma in 1936.
History of the Festival
Daffodils came to the Puyallup Valley around 1925 to replace the area's dying hop industry. The U.S. Department of Agriculture recommended bulb growing because of the Valley's excellent soil and ideal climate. About 200 varieties of Daffodils are grown, with the King Alfred being best known and most locally grown.
Origin of the Daffodil Festival
The Daffodil Festival, for all intents and purposes, began on April 6, 1926 when Mr. and Mrs. Charles W. Orton were hosts to civic leaders from 125 towns in Western Washington. The Orton's lived in rural Sumner and opened up their home for a garden party. The garden party was arranged so the guests could see the many varieties of daffodils in bloom, in and around their estate. Among the many guests were the mayors from Seattle and Tacoma. Major General Robert Alexander, a Commander at Fort Lewis, brought a military band and a group of officers and their ladies from the Army post. After this first garden party, the event became an annual affair.
Year after year, interest grew, (along with the ever expanding daffodil fields) until 1932, at which time "Bulb Sunday" came into being. The viewing of daffodils in bloom became fashionable, and, unfortunately created a massive traffic problem for Puyallup, Sumner and Orting, as up to 8,000 vehicles crowded the roads bordering the golden fields. No doubt, automobiles and owners were also vying for attention. The calamity of this congestion also brought a halt to "Bulb Sunday."
Parade Year
1934 was to become "Parade Year." Well-known Tacoma photographer and first secretary of the founding group, Lee Merrill, suggested that the daffodil blooms, which at that time were thrown away or used as fertilizer, be used instead as decorations for a Festival Parade. Automobiles were decorated with daffodils, bicycles followed in like-fashion and together they all paraded through the neighboring valley towns. A mounted contingent of the finest riding horses in the area appeared each year. The idea grew, and presently, the Grand Floral Street Parade travels through four Pierce County communities on Parade Day – Tacoma, Puyallup, Sumner and Orting.
In 2013, the Daffodil Festival was 80 years old, and there has been a parade every year since 1934, with the exception of the war years of 1943, 1944 and 1945.
Our Pierce County Community has viewed the Daffodil Festival as a premier headline event, second only to the Washington State Fair. Every other major city in Washington State has a Festival and we in the community should be proud that the Daffodil Festival continues to be a significant event in the Pacific Northwest.