2021
SILAS HIGH SCHOOL
ROYAL COURT
Kaia Brown

GPA
3.433
Future School
Whitworth University
_________________________________
Kaia plays varsity soccer for Wilson. She serves as one of the team captains. She also plays JV basketball and tennis. Kaia does contemporary and spiritual dance performances for her church's dance team. Kaia is a teen leader at First Presbyterian Church, as a mentor to middle school students. Last year, she was a member of Wilson's Drama/Musical Club. Kaia is currently Wilson's Black Student Union Treasurer and All-School Wide (ASW) ASB Vice-president. Kaia plans to major in either Psychology or Business.
Annelise Mitchell
GPA
3.925
Future School
Gonzaga Or University of Idaho
________________________________
Annalise has been dancing ballet for 14 years, most of which has been at a studio named Dance Theatre Northwest. She is about to reach 9 years of piano lessons as well as 2 years of volunteering at the Pierce County Humane Society. Annalise was a sophomore rep in ASB and participated in pep assemblies/dance set up and tear down. Lastly, she is a member of the Sons of Norway and finds a way to get involved in the community while connecting to her Scandinavian heritage. Annalise plans on majoring in English, with an emphasis on Creative
Writing.
Skylar Mitchell
GPA
3.984
Future School
Baylor University
_________________________________
Skylar dances for En Dehors, the elite dance company at Metro Arts, a division of Metro Parks Tacoma. She also shares her love of dance by teaching young people ages 3-12 at Metro Parks and currently teaches 6 ballet classes via Zoom each week. Skylar has also worked as a camp counselor and a lifeguard at Camp McCullough every summer. She regularly attends high school youth group at First Presbyterian Church and is a leader at the church's Middle School Hangouts. In addition to these activities, Skylar has served the community by volunteering for Gleanings for the Hungry and has also participated in Dressember to raise awareness and funds to put an end to human trafficking. Skylar auditioned for and was cast in both High School Musical and Beauty and the Beast at Wilson and currently serves as the treasurer for the High School Yearbook. She plans to attend Baylor University in the fall and major in Speech Language Pathology and minor in American Sign Language and hopes to work with the deaf community in the future.
Kelsey Monaghan-Bergson
GPA
3.982
Future School
U.S. Air Force Academy
_________________________________
Kelsey founded Pantry 253, helping to feed people in need that live in the greater Tacoma area. She is the Commanding Officer (Cadet Major) of the JROTC program and Captain/Commander of the Division Champion Strength Team, Marksmanship Team, Unarmed Drill Team, Academic Team, CyberPatriot, Color Guard, and Dual Unarmed Exhibition Drill Team. The cumulation of her leadership experience and studies at Stanford inspired her to create and direct her Well-Being and Character Development Course, DCPOS. Throughout her cumulative 500 hours of community service, she has earned roles such as a Magic in the PNW Character/Assistant Manager and Tacoma City Marathon Head Course Marshall. Additionally, she is an active activist for issues such as environmental justice and social equality. She also created the AYFTJ 24-Hour Puget Sound Virtual Race, leading the way by walking 61.42 miles within a day. After her multidisciplinary studies at USAFA, Kelsey plans to be an Astropsychiatrist.
Princess Genevieve - Wilson High School 2020
High school activities Princess Genevieve enjoys include being president of Jazz Choir, being a member of Key Club and taking part in Centerstage. She also is active with The Royal Rams dance team and The Students for Action Club. Genevieve is a member of the varsity fast pitch team, drama and is also on the honor roll. Her future plans are to attend PLU to study journalism and communications. She is looking forward to an internship with a local media/publication and eventually become a freelance writer for newspapers, magazines or a reporter or a column editor. Her ultimate goal is to become the editor of a publication.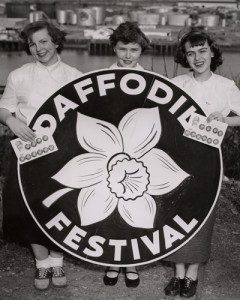 1936 Daffodil Princesses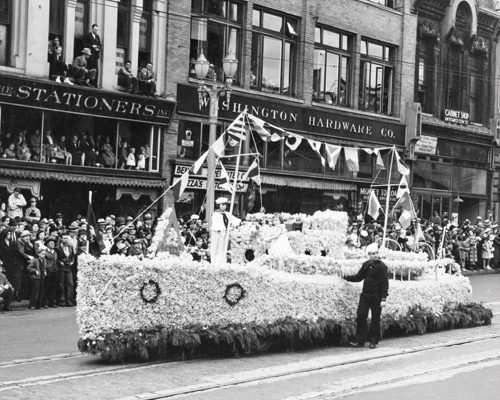 A float traveling through downtown Tacoma in 1936.
History of the Festival
Daffodils came to the Puyallup Valley around 1925 to replace the area's dying hop industry. The U.S. Department of Agriculture recommended bulb growing because of the Valley's excellent soil and ideal climate. About 200 varieties of Daffodils are grown, with the King Alfred being best known and most locally grown.
Origin of the Daffodil Festival
The Daffodil Festival, for all intents and purposes, began on April 6, 1926 when Mr. and Mrs. Charles W. Orton were hosts to civic leaders from 125 towns in Western Washington. The Orton's lived in rural Sumner and opened up their home for a garden party. The garden party was arranged so the guests could see the many varieties of daffodils in bloom, in and around their estate. Among the many guests were the mayors from Seattle and Tacoma. Major General Robert Alexander, a Commander at Fort Lewis, brought a military band and a group of officers and their ladies from the Army post. After this first garden party, the event became an annual affair.
Year after year, interest grew, (along with the ever expanding daffodil fields) until 1932, at which time "Bulb Sunday" came into being. The viewing of daffodils in bloom became fashionable, and, unfortunately created a massive traffic problem for Puyallup, Sumner and Orting, as up to 8,000 vehicles crowded the roads bordering the golden fields. No doubt, automobiles and owners were also vying for attention. The calamity of this congestion also brought a halt to "Bulb Sunday."
Parade Year
1934 was to become "Parade Year." Well-known Tacoma photographer and first secretary of the founding group, Lee Merrill, suggested that the daffodil blooms, which at that time were thrown away or used as fertilizer, be used instead as decorations for a Festival Parade. Automobiles were decorated with daffodils, bicycles followed in like-fashion and together they all paraded through the neighboring valley towns. A mounted contingent of the finest riding horses in the area appeared each year. The idea grew, and presently, the Grand Floral Street Parade travels through four Pierce County communities on Parade Day – Tacoma, Puyallup, Sumner and Orting.
In 2013, the Daffodil Festival was 80 years old, and there has been a parade every year since 1934, with the exception of the war years of 1943, 1944 and 1945.
Our Pierce County Community has viewed the Daffodil Festival as a premier headline event, second only to the Washington State Fair. Every other major city in Washington State has a Festival and we in the community should be proud that the Daffodil Festival continues to be a significant event in the Pacific Northwest.